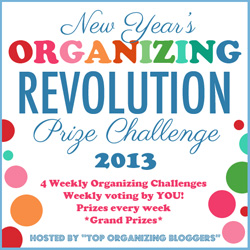 As you noticed in my list of
resolutions for 2013
I mentioned joining the
New Years Organizing Revolution of 2013
as my #1 and even though I stated they were not listed in any particular order, this was one of my top priorities.
I am happy to say that 2013 is off to a great start being that I have dove into this revolution full force and I am so thankful for
Laura at I'm an Organizing Junkie
and her partners for putting it all together.
Our first weeks goal was to organize your office space. Now as much as I dream of having my own office space in my house the reality is that it will probably NEVER exist, so I was kind of bummed right off the get go thinking this challenge wasn't meant for some one like me, until..........I saw the statement "
or desk area in your house
" and thought OH YEA! This challenge is def for me, because my "office space" consist of a small desk beside my
refrigerator
(in my kitchen, of course). And with all the link ups about to join this challenge some one might have enough pitty on me to throw some pointers my way?
So without further ado these are my pathetic
befores;
And here are the organized afters;
After further concentration this now only
the beginning
of organizing my small office space. I have some BIG ideas for this area ;-)
Thanks for Reading,
Do you like what you just read? Feel free to speak your mind on our
Facebook
page, or tweet it up
@prudentwisdom
on Twitter and if you would like to have Prudent Wisdom delivered to your inbox daily
Subscribe to PrudentWisdom.com by Email