Step up to the challenge!!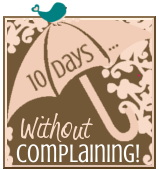 I came across
this wonderful blog
last night, as I was looking for some inspiration for my own blog and much to my surprise I was introduced to a challenge that I think we ALL can benefit from ;-) Now, I am not one to complain very much because I do take pride in finding the silver lining in every situation =0) However I do catch my self complaining from time to time over the
pettiest
things...UGH!
But, the question is; Are YOU up for the challenge? Can you go 10 days with out complaining? Yes I know I picked the most wonderful time of the year ;-) The hustle and bustle of the Holidays always brings the grump out of us all and those annoying family members with annoy us to the breach of screaming to the top of our lungs. Yet remember it is the season of Giving Thanks......and Gift Giving, so what better time to take this challenge as a reminder to be thankful for our blessing and what better gift to give that the gift of gratitude?!
So over look those annoying/fussy family members, even your hubs if you must ;-) make the whining of children music to your ears (one day you WILL miss it), use burnt supper as an excuse to splurge for take out at your favorite restaurant, and wave at the nosy neighbors with a smile or what ever else drives you crazy ;-)
For just 10 days, you CAN do it, I DARE YOU!!!
If nothing else, you (and I) will realize
how easy
it is to gripe, and how much of a
choice
it is to shut our mouths and smile instead. ~Kristy at the Little Natural Cottage
Leave a comment to let me know if you are up for the challenge, if you have a blog post the link, I would love to be apart of your journey as well.You can also use the has tag #
10dyswocomplaining as you tweet about it ;-)
I will journal daily for 10 days encouraging you to stay on track and letting you know how I am doing. I PROMISE to be honest!!