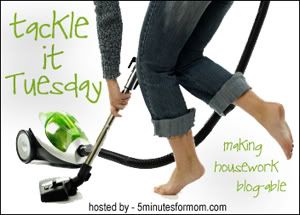 Once again I am hooking up with a wonderful and productive meme,
Tackle it Tuesday
located at the blog
5 Minutes for Mom.com
. This is where everything that is tackled, from dirty closets to dusty cupboards, are productively accomplished and recorded. Giving proof to my daily house cleaning ;o)
This weeks tackle is one that I have to tackle often, being that I have never been able to keep this little corner of my house clean, even throughout my childhood. My parents can give testimony to that one ;o)
This very, often, messy corner in my house is the only domain in which I allow to get as messy as it does. Why do I allow this so often as I do? Because no one can see it, lol. This domain is......MY CLOSET!
Now I have to admit I seriously forgot to take a before picture, honestly I didn't even think about it being apart of Tackle it Tuesday until after I tackled it =0/. Therefore you are spared the horrifying graphics and left with these peaceful snap shots.
and if you look close you can see that I was even smart enough to find a hook to hang an abundant collection of bags, that had been piled up on the floor.
What about you what have you tackled for today??